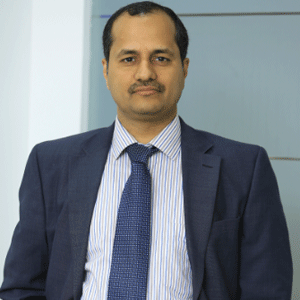 Prabu Balasubramanyan, Executive Director
"Digital Business Incompetence Will Cause 25 Percent of Businesses to Lose Competitive Ranking by 2017" "We are entering a new digital industry economy where everyone will be a technology company." – Gartner
To thrive in this new digital era, organizations need to put digital capabilities at the core of their IT strategy. It's time to transform their organization to drive innovation, empower employees and inspire customers and be Future Ready organization. Cloud, Social, Mobility and Analytics are the foundation of digital transformation of such organization. TransSys helps organizations to create and execute a road map that provides benefit of digital transformation—combining the best of their current investments with new technologies. TransSys supports a range of strategic initiatives, from rapid adoption to implementation of a hybrid cloud and large-scale enterprise transformation initiatives. It provides suite of industry-based solutions and pre-built accelerators, assets and tools designed to help organizations deploy digital solutions swiftly —helping organization realize real business value.
TransSys is partner of choice for organizations who are looking for transformational solutions designed to achieve real business outcomes. Since its inception in 2010, TransSys has worked with 150+ customers and 125+ cloud engagements, in 30 countries, and has in the process established a leadership position delivering Oracle cloud solutions in the ECEMEA region. TransSys' contribution and commitment towards the Oracle ecosystem has helped it win the "Best Cloud Solution Provider 2016" for 2nd consecutive year by Reseller Middle East and "Oracle CX Cloud Partner of the Year 2016 – Gulf States & KSA" by Oracle in November 2016. This is in addition to winning 5 awards from Oracle in the previous years and System Integrator of the Year 2016 at ICT Achievement Award deserve special mention. The company is strategically focused to help organizations in digital capabilities such as cloud, social, mobility and analytics.
Prabu Balasubramanyan, Executive Director, "With deep industry, technology and delivery experience, TransSys offer a portfolio of industry solution and services combining cloud, social, mobile and analytics offerings. We combine the power of Oracle's best-of-breed products with our deep expertise and wide experience to design solutions aimed at transformation and deliver measurable business value to our clients."
Some of the recent initiatives led by TransSys which aimed at creating new benchmarks includes:
• It launched RaDICS – Rapidly Delivered Industry Cloud Solution - an overall framework for delivering Industry specific solutions that focuses on Modern Best Practices encompassing both the product embedded processes and TransSys recommended processes. This is further offered as vertical focus - Airlines, RaDICS – Banking & Financial Services, RaDICS - Telecom and RaDICS – Real Estate.
• It launched Car Rental with ERP and custom-built solution AReALM (Automotive Rental And Lease Management) Solution for the leading Car Rental Company in the region.
• It launched REVAC solution viz. Revenue Accounting for budget airlines.
• It launched TransCEED - reform or renew your cloud journey. It is an expertise driven cloud-generation service offering provided by TransSys for customers who have embarked on the digital transformation journey leveraging Oracle Cloud.
"Team TransSys focus is to help customers retain their focus on transformation and not automation. They desire to constantly provide real business value and help customers achieve their goal"
TransSys is an Oracle Cloud Select Platinum Partner –a recognition TransSys received for delivering services through competency development, committed staffing, business results and proven success around Oracle Cloud Services. Proven experience and deep expertise in all areas of Oracle E-Business Suite, Oracle Cloud Applications, and Fusion Middleware has helped TransSys build one of the largest client reference base for Oracle Applications. TransSys is known for its functional and technical expertise across industries and business functions viz. for Human Capital Management, Financials, Projects, Manufacturing, Supply Chain, and Customer Relationship Management.
"Thanks to the support of our customers and partners TransSys has been expanding rapidly in the EMEA region. We are delighted to further establish TransSys presence in the Asia Pacific region and the decision is a logical step in our business growth strategy" said Prabu Balasubramanyan, Executive Director. "The region represents one of the fastest growing region in the world and is rich with diverse talent, as well as base to large enterprises. We also have the opportunity to further expand staffing and capabilities in our enterprise services and customer support, as well as increase our ability to serve customers locally. This is very exciting time for TransSys and we anticipate more announcements within the region soon".